Vase 花瓶: Unseen and Unspeakable Existence…
In conversation with Hijack
#Everyday life #Female Perspectives #Lake Lazarillo #LL21 #Performance Art
From 19 November 2021 – 21 January 2022, independent artist collective Hijack led a series of participatory performances during their artistic residency in Xinzao Town, a village at the southeastern end of Guangzhou in Guangdong Province, China.
Based on the artists' daily observations and experiences living in Xiaozhou during the brief period, the works invited the local community to participate in a series of performances. Reconstructing traditional imageries of masculinity to explore the unseen and unspeakable existence of women in the village, through a Chinese millennial and feminist gaze, the duo's work resulted in a final exhibition at CT20 in February 2022.
Following the opening of 'VASE 花瓶' in Folkestone, CT20 co-director Nina Shen invited Hijack (Jing Xie and Qiong Zhang) into a discussion about the process and deeper relevance of their work, including questions posed by members of the public.
Nina Shen: Where is Xiaozhou? (the place in which the performance took place)
Hijack: Xiaozhou is a village in the southeastern corner of Guangzhou, Guangdong Province, China. Located at the mouth of the Pearl River and surrounded by water on all sides, Xiaozhou has retained its traditional ancient village architecture and southern Chinese water village form. In Chinese, 'Xiaozhou' literally translates as 'small continents'.
NS: What is its relationship to its nearby metropolis, Guangzhou?
H: Xiaozhou has a population of about 16,500, and Guangzhou has 15 million. It is about a 2-hour commute from XiaoZhou by metro plus taxi to the centre of Guangzhou. It is considered to be part of the city.
'In Xiaozhou and Guangzhou we came into contact with a diverse group of artists and art workers who had migrated from all over China […]'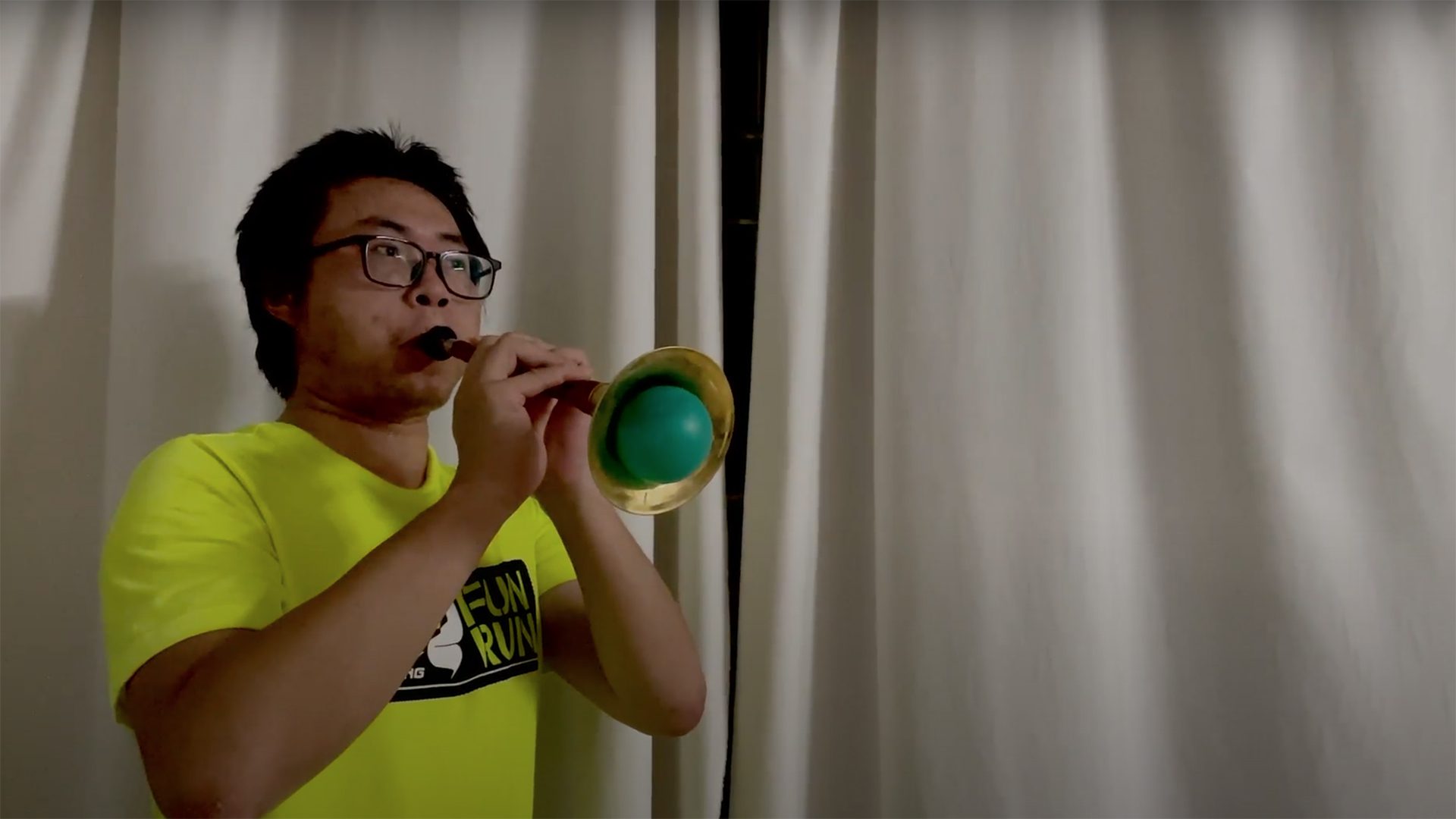 NS: Tell us a bit more about the community of artists who live and work there. What are their backgrounds? Why did they choose to come to Xiaozhou? What are their relationships to the nearby city of Guangzhou?
H: Everyone in Xiaozhou has a different story. Xiaozhou is like a tiny utopia. Some of the artists we met here are graduates of art colleges in China who have become disillusioned by or feel hostile towards the art industry and the contemporary art ecology. They turned to Xiaozhou to carve out a niche for something different. Some live here because the rent is cheap and it's easy to get to downtown Guangzhou. Most of the artists here are transient, they frequently visit or come down for events, but live elsewhere in Guangzhou or nearby cities.
There is a sense that there are a lot of artists here and new people are constantly moving into the area, but there is also a sense as if no one is really here and everyone is floating.
Xiaozhou is more like an urban village – run-down, has low rents and relatively easy access to Guangzhou's other communities and art units. Part of its old village is a government designated tourist area, and electricity is more expensive. It's sweltering in the summer, but artists hardly use air conditioning to save money.
NS: How do the artists organise themselves? Do they practice alone or with others?
H: They don't really organise themselves in the same way as other professional organisations do. They live, cook and eat together, meet friends, struggle to make a living, and talk about art in a slightly cynical way. Meanwhile, they do many creative things, such as making books, self-publishing, posting on social media, screening, sharing their work, practicing kung fu (as an exercise) together, receiving visitors, and so on. They use the place where they live to work. Each organisation and individual operates autonomously and they are unlikely to receive any funding from the government.
NS: Can you tell me a bit more about the type of art / works they make? And what challenges and constraints do they face?
H: They do printing, painting, woodcut, sewing…etc. They hesitate to call their work 'art / art work' as if it was a bad word. There is an artist called Mahu who used to do performance art and moved to Xiaozhou when we were there. She is a very talented and humble artist but she almost stopped her artist career (which had brought her a lot of pain) and started working and living in Xiaozhou with a new identity and as a tattooist in Xiaozhou.
NS: Your residency took place at Prickly Papers and Making Space, could you tell us a bit about them?
H: Prickly Paper is a publishing project and a printing studio; it is also the home of Feihong, one of its editors in chief. It is a secret place hidden within an old residential building, it has a residency space with a small private library called 'High Voltage Club'.
Making Space (Xinzao space) is a non-profit independent art space. It is located on a street corner in Xinzao Town, Guangzhou. Xinzao is about 40 mins away from Xiaozhou, and it shares many connections with the other art communities and artists in Xiaozhou and Guangzhou.
NS: Is the arrival of the artistic community a relatively recent phenomenon?
H: No, artists moved to and lived around Xiaozhou more than 20 years ago, and there has been a constant flow of artists moving in and out of Xiaozhou since then.
NS: In what ways is the artistic community 'alien' to the local communities?
H: Artists come here to escape and to save money. They are more focused on their work at hand. Their lives are entirely different from that of the locals, and they have neither anything in common nor any interest in getting to know each other. 
NS: What did you discover about the disconnect between the boisterousness of the local males and the silence of the local females?
H: Most of the local people we succeeded in making contact with are local business owners of B&B and restaurants. There are also those who sit outside the restaurants eating, drinking and chatting day and night, all of whom are men. This is quite unusual to what we see in other parts of China nowadays, or maybe it is too typical of what feudal China was like a hundred years ago. 
'[…] and the break between the gender equality and feminism called for by the outsider artist community living here and the very traditional Chaoshan clan culture in which the locals live; and, even, the unspeakable fissures within the seemingly united, friendly and supportive artist community…'
NS: For those who do not know much about the diverse range of cultures and ethnicities in China, can you describe a little about the Chaoshan Clan culture in this part of China?
H: Chaoshan culture is one of the three dominant cultures of Guangdong. The region and its culture is so famous, outsiders often associate Guangdong culture with Chaoshan culture (the locals see them as vastly different cultures however). The immediate impression we got is that it is very xenophobic and patriarchal. 
NS: What are the different gender roles displayed in this culture?
H: The men are supposed to be the bosses and make the big bucks; women are supposed to do the housework, play the hand, have children and bring them up.
NS: Could you describe a little about the soundscape that you've experienced in Xiaozhou?
H: At the very beginning, we were curious about this village and its different networks of communities. We communicated a lot about how we felt about the place yet we were powerless to change anything. Like many others we came and went, we couldn't really be fully involved and fit in here. In this series of artworks, we decided to completely immerse ourselves in this environment, to be perceptive towards it and just record what it was, including the sound from performers' actions and punters' responses during the performance interventions.
NS: The townscape – sometimes it is in the foreground, sometimes in the background. Could you describe a little bit about the different settings of the videos…
'Vase' and its background as a construction site
H: The construction site was previously a restaurant, and this piece of work was first filmed inside. We were a bit dissatisfied with the first version of the shoot and wanted to do it again but the day after the first shoot, the restaurant was torn down. The whole process was so rapid, and three days later, the entire ruins were gone, even the scraps from the demolition, leaving what you can see on the video, which is the second shoot on the same location of the restaurant.
Where the girl walked – What is the significance of the journey?

 
H: For this route, we found a bridge called 'Mamma Bridge' in Xiaozhou village. There is a shop called 'Where the girl walked', no one knows what it was for and it appeared to be shut but the sign remained. In the films, the two male performers took different paths in Xiaozhou at different times of the same day. The first started from the studio of Prickly Paper (in the new village) and walked to the old village where we ate lunch every day. The second started at 'Mamma Bridge' and walked past 'Where the girl walked' to the Xiaozhou People's Auditorium.
Xiaozhou consists of two parts, the old village and the new village are next to each other. The old village has narrower roads and a more traditional street layout; the new village has wider roads and more buildings and motor vehicles.
NS: Why does the town have colonial style architecture? (referring to the town hall)
H: The Xiaozhou People's Auditorium is a Soviet-style building built in 1958, and it is a local landmark. During that period, Chinese architectural forms were influenced by the Soviet Union.
NS: What are the different symbolisms used in the films?
H: The trumpet describes a kind of chatter and a constant harsh sound. The sound is particularly odd when the performer is unfamiliar with the instrument. The local males we met in Xiaozhou gave us this feeling, as did many males we met before. In an extremely patriarchal place, we tried to capture this very obvious yet indescribable feeling.
The slapping of the waistband
H: This is a typical image of an extremely arrogant and commanding male, which refers to an archetype of traditional masculinity. But it brings humour and tension to these seemingly casual, even run-down environments where they lived at the time.
H: "Vase" is a popular term that describes a superficially good-looking woman. It is a term widely used in China a decade ago that stigmatised women. It refers to a stereotyped image of a beautiful woman who is perceived to be incompetent, or her endeavours and intelligence are always overshadowed by her appearance.
H: The jackfruit is a fruit that can only be found in the far southern part of China and southeast Asia. It has a barbed shell, normally people open it violently with a knife. It refers to an object that has suffered casual violence. One of the imagery this work refers to is a woman who has endured domestic violence. One day in a mass chat group shared with several hundred people within Guangzhou's art community with which Xiaozhou has connections, a woman began to complain about the violence and abuse her ex-boyfriend had inflicted on her. She and her ex-boyfriend were both members / friends of this community, but the response from the group was very strange. Some members / friends in this group acted as if they were blind to her ordeal and hardly responded at all. Immediately below the dozen pages of accusations she posted, some people immediately started posting ads, as if one person was shouting in a noisy train station while others next to her watched her continue to sell newspapers and drinks without any reactions.
NS: Did they eat the Jackfruit in the end?
H: No, it was too broken for eating in the end. So it had been thrown away.
NS: Where did you get those glowing chairs? And why?
H: We planned to use a typical dining table and set of chairs, but they were all gone with the restaurant during the quick demolition. These chairs were thrown on the outside of a bookshop in Xiaozhou at night one day as we wandered around. We borrowed them only to find that they could be sparkling and produced a strange effect in that somewhat dark and shabby scene.
NS: What does the final 'soundtrack' sound like?
H: Just like it is in the film.
NS: Why is the performer with the microphone in a suit?
H: The man in the suit has a different role from the other men sitting around the table. His role here is that of a waiter / recorder who holds the microphone and records the silent meeting. His movement was triggered by the action and sound from other performers and magnified their subtle arrogant actions through quickly highlighting them, like holding a shooting weapon and loud-speaker.
NS: Were the people casted for the video, or are they members of the public?
H: They are the locals who live in Xiaozhou. They come from different backgrounds, such as security firms, used car sales, seafood stores.
NS: How easy was it to carry out the performances in this town? Did you have any obstacles? (compared to your previous work, 'Shooting in the Dark', for example?)
H: To be honest, it's not very easy to carry out the performances in this town, and even harder to recruit performers. At the beginning, we tried to launch an Open Call on our social media, but we just received a few responses which were very different from our experiences in other places. We were fortunate to be connected with the BA students from The Guangzhou Academy of Fine Arts. They passionately joined us and preliminarily joined the experimenting process with us in Guangzhou, which unfortunately we didn't have the time nor energy to bring out in the end. 
After that, we began to look for performers in artist groups and local people, but it still wasn't very easy. We felt in Guangzhou, people were more concerned with their own business compared to the public in Shanghai or Chengdu, where there seemed to be greater interests and desires to experiment with art. People participated for fun or simply out of curiosity but in Guangzhou, whether it was the artists community or local punters, they would first ask how much we could offer to pay them. We respect that they value their 'labour', but it made the process more difficult for us to try and experiment with new works.
NS: Is that the same performer – the one with the neon green / yellow T-shirt kicking the jackfruit and in 'Mansblow' film?
H: Yes, he is Xizi, a poet, translator and an embassy staff living in Xiaozhou.
NS: How did people in the village react to the performance?
H: Most people are busy with their work, businesses or socialising among small circles.
We tried to record the live response from them when the performance was happening. Some locals were curious about what was going on, but they just stopped and watched or briefly looked back as they passed by.
NS: How did people in the village react to the final exhibition at Making Space in China?
H: We left the town during the final exhibition but we saw some interesting responses from the great records / pictures of local audiences from our present holder Making Space. The exhibition is like a small showcase in the street corner. From time to time, a variety of local passers-by stopped in front of the exhibition window and watched the films inside attentively.
VASE (花瓶) is part of Lake Lazarillo 2021 (LL21), a radical series of live-art commissions for the public realm and public-led talks connecting ground-breaking international artists with local communities.  A confluence of ideas, a meeting point of opposites, LL21 is 5-part series that explores ideas surrounding proximity and distance. ⁠
Hijack is an independent artist collective initiated by Jing Xie and Qiong Zhang in 2016 and intensively collaborated from 2018.
Hijack is the action about to happen and might end at any time. It is the moment emergent and inevitable. Their practice focuses on consumerism, power, technology through performance, intervention, moving image, devising theatre and text.